Tanja Kovac, The Sydney Morning Herald
It's no fairy princess tale; the Prime Minister has done the hard yards.
FORGET the polls, those short-term numbers unlikely ever to grace a history book. Forget, too, the personal sacrifice, professional brilliance and sheer guts it took to get into Parliament in the first place. And the years of patience required in opposition. Forget all that.
Instead, concentrate on what Julia Gillard has achieved for workers, education and women since entering government in 2007. In the first Rudd ministry, Gillard was minister for education, minister for industrial and workplace relations and minister for social inclusion. As a Labor politician, are there any jobs (other than health), left to do? Gillard managed them all. Simultaneously.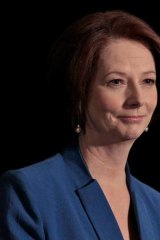 It was she who did the heavy lifting to end WorkChoices. It wasn't Kevin Rudd who legislated and prosecuted the case in Parliament and the press; it was the partisan former industrial lawyer from Slater & Gordon.
Reregulating the industrial umpire, when the Coalition and Business Council of Australia are in ideological lockstep against it, required bravery and a little compromise. When the CFMEU rallied against parliamentary Labor colleagues who maintained the Australian Building and Construction Commission, Gillard became the public face of an unpopular policy among her comrades.
Gillard delivered on education. You have to be educated in a portable classroom to understand her achievements with the Building the Education Revolution. Or you need be a parent to value the transparency in school performance and funding that My School delivers.
Gillard also supports ideas. She commissioned David Gonski to review school funding, discovering gross under-investment in education. Workers' rights and a good education system have something in common - an Australia with care as the central organising principle.
Care has potential to envelop all the successes of the Gillard term - plain-packaging tobacco, a carbon price and the National Disability Insurance Scheme - and it is a gendered narrative. Until the marathon misogyny press conference, gender has been off limits. This was not always so. In 2005, unfettered by the pressures of leading the nation, Gillard taunted Tony Abbott, asking him to imagine being born ''Antoinette''.
''Ask yourself the question, could you be the mother of three and have led the same life? Would you have married? Had children? And would you have had the same number of children if doing so meant the difference between having a shot at being PM and not ever having that shot? If it meant the difference between the career you wanted or holding a lower-status, lower-paid, lower-profile, less interesting and less fulfilling job.''
Gillard has achieved much for women, overseeing an astounding take-up of paid parental leave, mass support for pay equity for community workers, lifting the tax-free threshold to $18,000, 50 per cent childcare rebates and establishing an NDIS - each of these extraordinary policies bringing the hidden costs of care into the open. And lest anyone thinks it's only women affected, the Diversity Council Australia released a report saying men also want more time to care for loved ones.
Meanwhile, gender remains Abbott's glass jaw. Long before David Marr discovered him swinging punches at university, Abbott was swearing at Nicola Roxon, telling housewives to iron, and girls to save their precious gift for the right fellow. This is why, within weeks of coming to power as Opposition Leader, he backflipped on maternity leave. Can she do it? Wrest victory from a man who the public is convinced has a problem with women?
Gillard's rise to power is a much more complex story than a few hours before the leadership coup. It encompasses a long march through the boysy culture of law, unions and politics; the non-choices between children and career; and institutionalised, denigrating chauvinism.
In the past few weeks, she has reminded us why Labor entrusted her with leadership. She is a fighter; a woman who rises against the odds; can lose her much-loved father and turn up for work ready for the battle of her life. She's a Labor success story, with a plot twist or two yet to tell.
Tanja Kovac is a writer, lawyer and research fellow at EMILY's List Australia. EMILY's List was established to help promote Labor women.
Do you like this post?