Adam Gartrell, The Sydney Morning Herald 
It was widely regarded as one of Julia Gillard's finest moments: the misogyny speech that reverberated around the world with its righteous anger.
Seen by millions, it was a devastating takedown of Tony Abbott that drew praise from world leaders and turned Ms Gillard into a global feminist icon.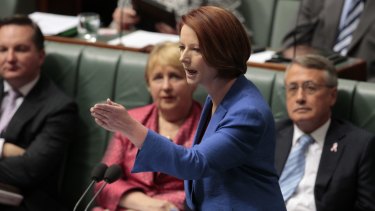 And now it can help you get through that mountain of dishes: feminist political network Emily's List has turned the famous speech into a tea towel.
It's curious symbolism. Why reduce a speech all about female empowerment into a symbol of prosaic domesticity? Does Emily's List have a keen sense of irony?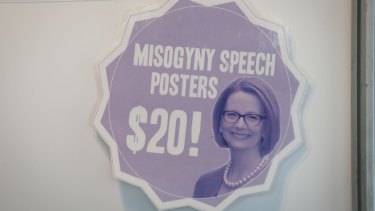 "No," Lisa Carey, the group's national co-ordinator, told Fairfax Media on Friday. "We just want people to remember it whatever they're doing."
While the tea towels stand out among the ALP T-shirts and Gough Whitlam biographies on offer at Labor's national conference, they're not exactly flying off the shelves: at the end of day one they'd only sold a couple of dozen.
The tea towels are also available on the Emily's List website for $25.
Do you like this post?