Feminists are drying dishes with the full fury of Julia Gillard's misogyny speech.
A tea towel emblazoned with the entire text of the former prime minister's famous speech from October 2012 has sold out after it debuted at the ALP national conference last month.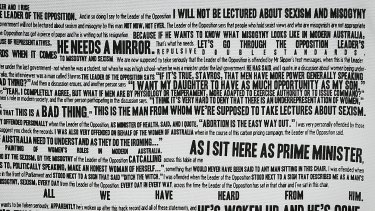 Organisers for the feminist political network Emily's List say they have been inundated with more than 2000 online orders after selling out at the conference.
The group's national co-ordinator, Lisa Carey, told Fairfax Media women were embracing the irony of the tea towels, which retail for $25.
"The misogyny speech was a turning point in Australian politics, for women especially, basically saying enough's enough," she said.
The speech has already been popular in poster form, and the group is now considering a suite of spin-off products, including aprons, calico shopping bags, oven mitts and ironing board covers.
Prime Minister Tony Abbott once called on the housewives of Australia "as they do the ironing" to think about the impact of the carbon tax on household bills.
"Perhaps when the women of Australia are doing their ironing, they can think about this instead," Ms Carey said.
Emily's List was founded in 1996 by a group of Labor feminists, including the late Joan Kirner, to fund and support progressive female candidates. Julia Gillard herself received support from the group.
About 50 per cent of revenue from the sale of the tea towels will go to funding female candidates for the next federal election.
The former prime minister declined, through a spokesman, to comment on the tea towels or to suggest alternative items for the speech to be printed on.
Do you like this post?