Joan Kirner was Victoria's first and only female premier, but to the hundreds who gathered to celebrate her life, she was also a tireless campaigner, a life-long mentor, a dear friend.
Flags had been flying at half mast on all government buildings across the state on Friday as hundreds arrived at Williamstown Town Hall for the state funeral service.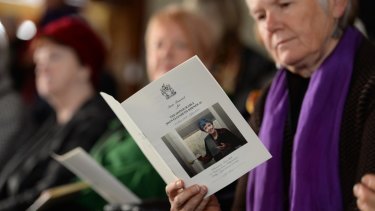 Mourners remembered how Mrs Kirner, who died at the age of 76, had dedicated her life to community values, to social justice, and played a key role in education reform, abortion laws, and encouraging more women to enter politics.
"She was tireless in promoting women," said Candy Broad, a former Victorian upper house member, who recalled how Mrs Kirner knew she would one day become a politician long before she did.
"She could be stubborn, willful and down-right unreasonable in her pursuit of these goals, but we are all better off because of that determination."
Mrs Kirner was first elected to parliament in 1982 and became the state's first female premier in 1990 after John Cain resigned. She held office for two years before Jeff Kennett's landslide win at the 1992 election.
After her retirement from politics the following year, she went on to help establish EMILY's List Australia – an organisation independent of the ALP that has helped elect hundreds of women.
Those who spoke at the service were chosen from among her family and close friends rather than the veteran Labor leaders gathered in the hall, providing a glimpse into her life and lasting legacy.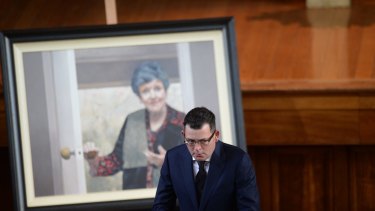 In an emotional tribute, long-time friend Hutch Hussein revealed through tears that her son was born just 18 hours after Mrs Kirner died.
She had lost her dearest mentor, she said, but her son will carry her memory with him for life – Kirner is his middle name.
"There was still so much that she wanted to do," she said. "She seemed to have the energy to power a regional town."
Caroline Hogg, who served as a minister in the Kirner government, called Mrs Kirner "the bravest woman I ever knew", while her cousin, Max Cole, said she had always been like a big sister, who took charge as a leader and a teacher at a young age.
Emily Lee-Ack, who worked with her at EMILY's List, said it was almost impossible to say no to Mrs Kirner.
"She gleefully challenged us to be better than we thought we could be," she said. "She cherished the opportunity to see women embrace their power."
There were also light-hearted moments, such as when friend and former Labor state secretary Jenny Beacham recalled how Mrs Kirner was sometimes late to meetings and became known as "the late Joan Kirner".
"We have lost the truest and dearest friend anyone could have and I've been so lucky to have had that friendship for more than 40 years," she said.
The packed hall at one point also softly sung along to I am Woman, the Helen Reddy hit that became an feminist anthem for a generation. "A few of us struggled on the higher notes," quipped Anglican Bishop Philip Huggins.
Labor figures at the service included a handful of former premiers and federal ministers. Former prime minister Julia Gillard was not able to make it due to ill health.
"Devastated a sudden nasty bug means I will sadly miss Joan's funeral. Sending much love to the Kirner family," she tweeted.
Family friend and Labor veteran Peter Batchelor said the Kirner family was both surprised and overwhelmed by the public outpouring of love following Mrs Kirner's death late on Monday after a long battle with cancer.
"They want to thank everybody who's thought about Joan," he said.
Mrs Kirner leaves behind her husband, Ron, children Michael, David, Kate, and four grandchildren.
Do you like this post?